hidrobi_3
Credit: CsZ

H2020 and OTKA projects

HORIZON 2020 (2020-2024)
DRYvER: Securing biodiversity, functional integrity and ecosystem services in DRYing rivER networks
Grant ID: 869226, Consortium leader: Thibault Datry (INRAE, France)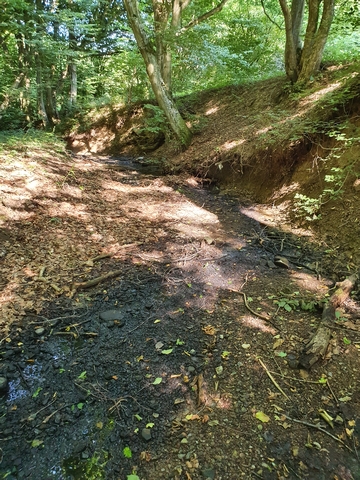 Rivers, streams, lakes and other wetlands are among the most valuable, yet vulnerable, ecosystems for biodiversity and economy of the future, as well as for human survival, still are the most threatened by human activity. These freshwater networks also provide essential ecosystem services, such as drinking water, food production, nutrient distribution, organic matter degradation, and climate regulation, that increase the well-being of society. As a result of climate change and the growing water demand of human activities, a significant proportion of watercourses that used to be characterized by constant water circulation are now becoming more and more dry or transporting less and less water. This phenomenon is also having a devastating effect on biodiversity, ecological integrity of networks and the ecosystem services they provide, and is becoming more and more dramatic worldwide. Nevertheless, the scientific community, natural resource managers and legislators have so far paid little attention to this process, which is thus still almost unknown to the public. As a result, for this phenomenon, comprehensive biodiversity conservation or resource management strategies do not yet exist.

The main goal of the DRYvER project is to assess and understand the process at a global level with a cross-disciplinary approach, and then to offer real solutions to this problem to the involved parties - economic actors, public administrations, NGOs. As a multidisciplinary consortium, experts from 25 institutions in 16 countries, based on studies in 9 focal dry river networks, will study over 4 years how drying in small watercourses due to climate change will affect biodiversity, the functional structure of wildlife, physicochemical and biological processes in streams and thus ecosystem services; all with biological-ecological, hydrological, chemical, as well as economic, sociological methods and approaches. The results of the surveys serve as basis for hydrological and related biological and metabolic models. These models use so-called "upscaling" methods to draw an extended continent-wide picture of the future extent and effects of drying. Using this information, it will be possible to develop strategies, tools and recommendations that can be used for the adaptive management of watercourse networks. All of this will give resource managers, water users and other involved economic parties and civil society the opportunity and guidance to mitigate and adapt to the effects of climate change on these networks, incorporating quantitative and qualitative aspects, including and giving priority to nature-based solutions as well as socio-economic aspects and legislative elements.
---
OTKA (2020-2024)
Impact of climate change caused drought on community assembly of aquatic macroinvertebrates
FK-135136, Project leader: Pál Boda (Centre for Ecological Research)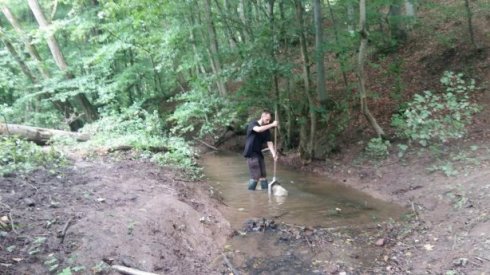 As a result of climate change, extreme water cycle in watercourses are becoming more frequent, with a significant impact on community structure. Due to these climatic anomalies, our small waters, earlier having a constant water supply, are drying up more and more often. The aim of the tender is to test the meta-community hypotheses ('time for adaptation', 'beta redundancy', 'network position') already tested in permanent watercourses on the communities of intermittent watercourses, thus exploring the spatial and temporal changes of community organizing mechanisms in intermittent watercourses.
Facebook posts:
https://www.facebook.com/ptehidrobi/posts/2547328858632339
https://www.facebook.com/ptehidrobi/posts/2264322233599671
---
OTKA (2019-2023)
Impact of extreme climate events on benthic algal communities
FK-132142, Project leader: Viktória B. Béres (Centre for Ecological Research)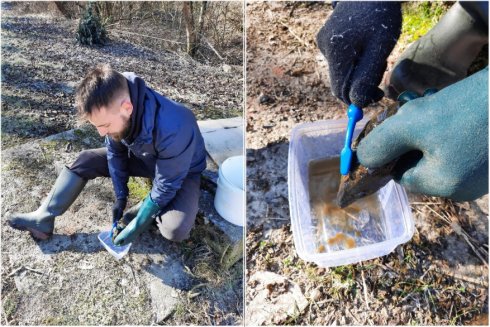 In the last decade, in the summer, during the drought period numerous small domestic watercourses have dried up, or their water levels have dropped so much that the continuous water supply has been interrupted. Benthic diatoms play an important role in material- and energy-flow and are sensitive to changes in environmental factors, so they can be excellent indicators of drying. The aim of the project is to investigate the effects of drought on the taxonomic and functional structure, diversity, dispersion and succession of benthic algal communities in arid and constant water supplies, including lowland and hilly streams, and in drying small waters during the wet and dry periods.